RESEARCH AND DEVELOPMENT
The R&D team plays a key role to make Jeil Jersey a trendsetter in the market.
Jeil Jersey R&D team reconnoitering seasonal domestic and international market researches. Every season R&D team key members go to various of fabric exhibitions in the world; for domestic market inland Korea and Japan, for international markets with inclusion of Texworld Paris, they also participate "Preview in New York", "PGA Show", "Salon Int. De La Lingerie", etc.
After reconnoitering, R&D team analyzes each materials' patterns, technical characteristics, and performance. Following analysis , R&D team creates inner suggestions of materials and concepts. And at the development part, R&D team focuses on "how to make it better" aim. Better style into performance, better performance into technic, and better technology into green.
Through R&D team, fashion information and trend exchange service provides which material would be "the most suitable" for our customers. In this way, R&D team reinforces quality improvement of the items in hand, and develop new innovative materials. Long term business cooperation with our customers makes this reinforcement more efficiently. Because as an OEM service solver, we are aware of that to embody our customers' brands.
Thanks to these analysis, informational exchanges and developments, Jeil Jersey provides more than 4,000 kinds of own created innovative and "licensed" natural/synthetic fabrics.
---
MANUFACTURING
The superiority of Korean fabrics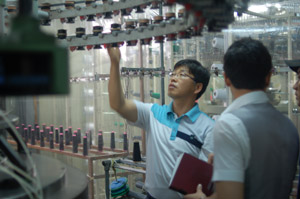 Jeil Jersey manages whole its from yarn to knitting/finishing process by work sharing all departments.
Manufacturing department continuously manages and adjusts quality. Producing processes, yarn/knitting/finishing data, and other variables and effective inner departments communications are the secret of our jersey fabrics top quality all the time.
By courtesy of manufacturing department's effective inner communication with R&D team and outer communication with markets and customers also important to develop new materials.
As proved by the accomplishment achieved in more than fifteen years of industry, we proffer the superiority of Korean fabrics and garments to all markets, and we actively co-operate with our clients to the success of the highest performance, comfort and elegant fabrics to the market.
---
EXPORT
We do our best for the utmost level of satisfaction
In order to growing export demands, in 2010 Jeil Jersey expanded the export department.
Jeil jersey Export Department division into following sections;
Export Management
Project Management
International Marketing
Market Research
Trade Financing
Export Pricing
Partnering
Foreign Language Capability
Foreign Culture and Business Practices Savvy
International Trade Law
We updated all the previous demands data, building a new CRM system and added international members into team.
With this new international face, updated ERP data and "just in time" CRM system, Jeil Jersey put spur to its international growth.
Export department meets with international buyers and introduces the newest products to them through exhibitions and abroad market researches.
Listen to new exciting opinions, to bethink suggestions and styles from the customers, and developing new materials accordingly, give us a chance to make our best for utmost level of satisfaction.
---
CUSTOMER RELATIONSHIP MANAGEMENT
Getting across to stylists, buyers and garment experts is the first step for building a long-term balanced and transparent relationship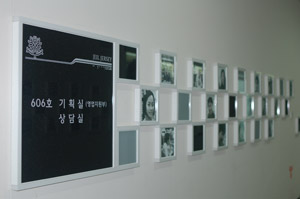 Jeil Jersey CRM team provides customized consulting service to our clients, analyzes the newest trends in the market with them and to help to develop new items accordingly in each seasons with R&D department.
For setting fashion trends in the market, Jeil Jersey CRM Team arranges customized "conception meetings" for each brands in each seasons.
Through constant systematic production management efforts of CRM Team, and scheduling-quality identifying methods for production development make Jeil Jersey is the best company in the market.
From the small garment maker to the huge multinational manufacturers, Jeil Jersey's clients find us to be a "perfect fit" for the production of high quality fabrics and garments to satisfy even the most exacting end consumer.